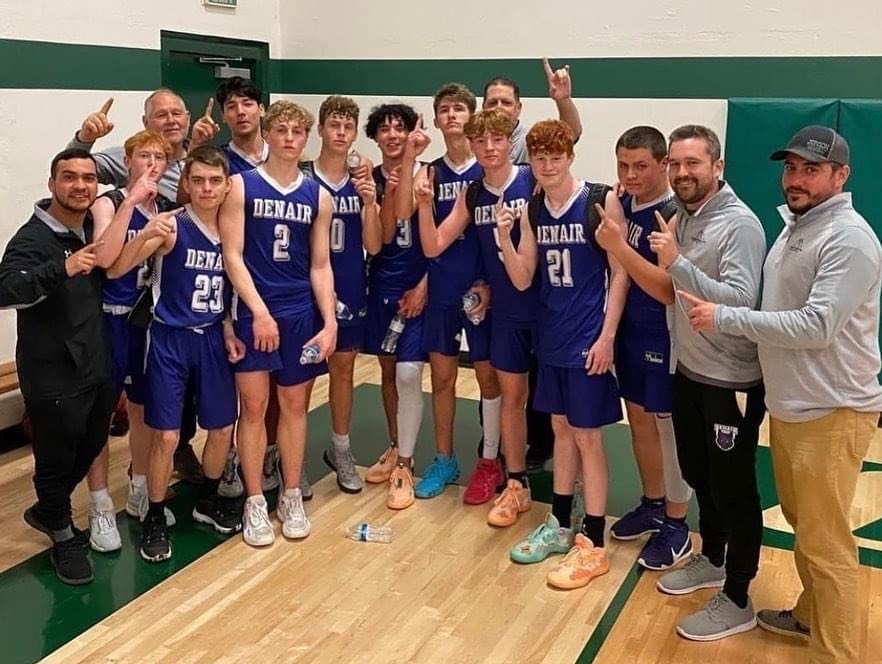 R.J. Henderson has coached Denair's boys basketball team for a decade. The Coyotes have won or shared the past three Southern League championships, something that hasn't happened in 30 years. They've qualified for the Sac-Joaquin Section Tournament and made it as far as the NorCal Tournament two years ago. Their four senior starters – the group Henderson calls "the core four" – have racked 60 victories against just four losses the past four years.

With all that success and accomplishment for context, Henderson believes Monday night's dominating 69-46 road victory over Mariposa was extra special.

"I think it was the best game that I've been a part of in 10 years, given all that was at stake," Henderson praised. "It was the best atmosphere we've played in all year. The intensity that was inside that building and the way we played — I'm confident we're ready for what's next."

The win not only clinched an SL co-title between the Coyotes and Grizzlies, it clearly impressed the people who were seeding the Section Division V bracket. Denair (23-4) vaulted to the No. 1 seed – meaning it not only earned a first-round bye, but it also will play at home in round two and, if it wins next Monday, again in round three on Feb. 23.

The Division V championship game will be played Feb. 26 at Golden One Arena in Sacramento, home of the NBA's Sacramento Kings.

Senior Mario Plasencia – a four-year starter – led the way against Mariposa, scoring a game-high 23 points and grabbing 22 rebounds. The other members of "the core four" — Cooper Feldman, Jack Henderson and Connor Leonard – also all scored in double figures. They have been playing together since junior high school.

Denair only led by seven points at halftime, but turned up the pressure on defense and found another gear on offense in the second half. The result was another runaway league victory for the Coyotes, who crushed many SL opponents by margins of 50 points or more this year.

Monday's win also avenged a 55-52 home loss to Mariposa on Jan. 4. Denair has won 19 of its past 21 games.

"We're the first Denair team to win three titles in a row. Ever. That's going to be our legacy," said Henderson.

Earning the No. 1 seed in the 14-team Division V bracket is another impressive accomplishment for the Coyotes. There were no playoffs last year because of COVID, but in the three seasons before that, Denair was seeded 11th twice and third once. In 2020, Denair advanced as far as the first round of the NorCal Tournament, where the Coyotes were beaten 47-44 by Pacific Bay Christian of Pacifica.

Ripon Christian (19-7) earned the No. 2 seed in Division V and the other first-round bye. Denair defeated RC 62-49 in the Riverbank Tournament in December. The third seed is Fortune Early College Prep (12-10) of Sacramento. Mariposa (20-5) is seeded fourth, setting up a potential Mariposa at Denair semifinal on Feb. 23.

Henderson is not concerned that Denair hasn't played a close game since its loss to Mariposa in January. He thinks it's more important that the Coyotes are playing their best basketball as the playoffs begin

"The league was very top heavy this year," he said. "It's going to cycle from time to time. Some of those scores got out of hand, but we weren't trying to run it up on anyone."

Next Monday, Denair will host the winner of Friday's game between No. 8 seed Aspire Langston Hughes Academy (16-0) of Stockton and No. 9 Golden Sierra (17-8) of Garden Valley. Henderson said his coaching staff and most of the team will be in Stockton on Friday night to scout the two teams in person.

Despite the top seed, Henderson senses that some potential opponents still don't give Denair the respect he thinks it's earned. That's fine with him.

"I still think there's some overlooking of our team. Which is fine," he said. "We want to operate with a chip on our shoulders. I've been doing that for 10 years as a coach. I try to keep our kids edgy and they've responded to it."

Two more home victories not only would give the Coyotes a chance to play in an NBA arena, it also likely would cement another spot in the NorCal Tournament – achieving one of the team's primary goals.

"Getting to March means the State Tournament," Henderson said. "In the last three weeks, especially in the last 48 hours, it's been, 'Let's really try to maximize this run in Sections.' But we don't want to get too far ahead of ourselves. I would love for us to play a game in Golden One. The kids would, too. They don't want this thing to end. Yet our primary focus right now is getting ready for the winner of that Friday night game."

Anyone planning to attend Denair's home playoff games should be aware that the ticket policy has changed this year. They will not be sold at the door and must be ordered online (here is the link). Tickets for Monday's 7 p.m. game will not go on sale until Saturday.