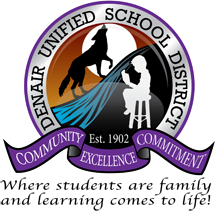 Denair Unified School District trustees heard an update Wednesday night from the consulting firm leading the search for a new superintendent. The current superintendent, Aaron Rosander, announced in February he will leave the district at the end of June after 4½ years.
In late February, a representative from McPherson & Jacobson held stakeholder meetings with 72 people representing community members, students, teachers, classified staff, administrators and parents. Each participant was asked to respond to four questions:
What are the good things about your community?
What are the good things about your schools?
What issues should the superintendent be aware of as he/she comes into the district?
What skills, qualities or characteristics should the new superintendent possess to be successful here?
Respondents to the first two questions frequently mentioned the tight-knit nature of the Denair community and its bond with the school district. Many referred to the relationship as reflecting the closeness of a "family" and believe the bond formed through generations of Denair residents is an important asset.
In terms of key issues the new superintendent should understand, enrollment – particularly at Denair High School and Denair Middle School – was a common theme. Both campuses have seen fewer students in recent years, offsetting consistent growth at Denair Elementary Charter Academy.
Teachers cited complete salary restoration after pay cuts were imposed in 2013 as well as what they view as a high turnover rate among teachers as well as administrators.
Some in the community expressed concern that the new superintendent will be at a disadvantage because he or she is not available now to help guide the Board of Trustees' decision to write a new charter for the district as well as seek a parcel tax, which would provide money for salary increases. Continue reading "Denair Trustees Hear Update on Superintendent Search" »