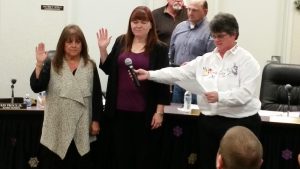 Submitted by Denair Unified School District
Enrollment in the Denair Unified School District is down 38 students from last spring's projections, trustees were told Thursday night. The losses primarily are at the high school and middle school, but have been partially offset by continued growth at the district's elementary charter school.
The decline has implications for the district's future budgets, Chief Business Officer Linda Covello told trustees. Public districts are largely funded by the state on Average Daily Attendance, or ADA. Covello projects this year's ADA to be 1,225, which reflects an increase of 20 ADA at the elementary level, a decrease of 34 ADA at the middle school level and a decrease of 24 ADA between the two high schools.
Four years ago, when Denair confronted steeper enrollment declines, all staff took pay cuts while others were laid off. That's not the case today.
The district's finances have dramatically improved thanks to the strategic cost cutting as well as the introduction of programs that generated enrollment growth.
In particular, the dual immersion English/Spanish program at Denair Elementary Charter Academy has proven to be a magnet for new students. There now are classes in kindergarten, first grade and second grade, with another grade level introduced each year.
The district also has applied for additional grant funding to increase opportunities for students. Most recently, Denair applied for a CTE Facilities Grant to potentially bring in $1.15 million to expand career technical education programs.
"We currently are examining targeted grants and initiatives, along with program enhancements that will stimulate new growth, particularly at the high school and middle school," said Superintendent Aaron Rosander. "Continued prudent stewardship of our budget, in tandem with innovative program development, will be important linchpins in DUSD's future growth and financial health."
The district anticipates having positive monthly cash balances throughout the 2017-18 school year and an ending fund balance of more than $2.4 million, Covello said. Continue reading "Denair Enrollment Slightly Declines, 
Despite Continued Gains at Elementary Charter Campus" »