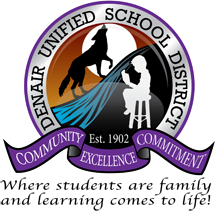 Submitted by Denair Unified School District
An independent auditor praised the Denair Unified School District for the accuracy of its financial projections Thursday night while cautioning trustees to pay close attention to future spending.
In particular, Debbie Fry of School Services of California advised school board members to avoid making long-term financial commitments without a corresponding revenue stream to pay for them. Those dollars from the state, she explained, are directly tied to enrollment – which has been flat or declining in Denair. Enrollment is projected at about 1,300 students this year, down from nearly 1,600 10 years ago.
The district's $16.2 million budget for 2017-18 includes about $1 million in so-called "one-time money" collected and saved over the past three years, said Linda Covello, chief business officer. The additional money has been Gov. Jerry Brown's preferred method of funding schools beyond what is legally required.
Denair will use that money to add modular buildings on the fast-growing Denair Elementary Charter Academy campus, buy new textbooks at all four campuses, and pay for computers and other technology to better prepare those students.
Saving the extra state dollars to spend on specific projects is a key part of the district's strategy to attract more students, Covello said. By law, the one-time funds cannot be spent on ongoing expenses such as employee salaries.
"The top priority for the district has been to increase enrollment … to generate additional ongoing revenue and be able to increase ongoing expenses (salaries and benefits) in a way that is sustainable," she explained. "So over this year and the next, the district plans to spend down all of the one-time moneys sitting in the ending fund balance on one-time expenses that can improve and/or increase programs."
Added Superintendent Aaron Rosander: "This is all planned. The one-time money is going to disappear as we invest in technology, infrastructure and other programs." Continue reading "Independent Auditor Gives DUSD Thumbs Up" »