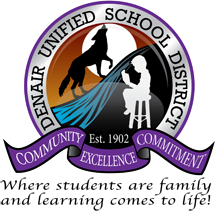 Submitted by Denair Unified School District
Testing procedures and analysis is about to go to a whole different level in the Denair Unified School District.
The goal, school trustees were told Thursday night, is to better understand student performance in order to create customized plans to address specific academic weaknesses. Parents soon will be receiving reports that chart their children's progress in four performance areas and include recommendations to help them improve.
"This assessment allows us to target specific skills that can be improved throughout the school year," explained David Naranjo, the district's senior director of student support services. "We can target the specific intervention by setting goals with students."
The testing program is part of the NWEA system, an international organization recognized for its student assessment systems. NWEA's results provide the national averages to which Denair students from kindergarten through 11th grade were compared.
The tests themselves cover four core subjects – math, reading, language usage and science. Each child is expected to complete them, including students in special education programs as well as those for whom English is a second language (starting this year, exams also will be given in Spanish). The tests are taken at the district's various computer labs; each subject takes about 50 minutes to complete.
The tests will be given three times a year, Naranjo explained, so performance can be measured and interventions introduced as necessary. The first tests were given in May. Those results were shared Thursday night.
High school principal Kara Backman said the initial analysis shows that Denair students "are generally strong in language use" across the district, but are "average" to "low average" in other subject areas. Continue reading "New Testing Procedure for all Denair Students Will Drive Personalized Instruction in 4 Key Areas" »